Men across the world know the power that comes with a great suit. We've all seen James Bond make it look easy to be debonaire, and we're all but certain we can do it too. But can we?
More often than not, men get the staples – trousers, jacket, shirt, tie – but neglect the character pieces that make it unique and attractive. When it comes to style and standing out, the secrets are found in the details. When you're ready to step up your game, here are 5 items to instantly enhance your style:
Pocket Square – When you look around most environments, very few "suits" are also sporting a pocket square. In fact, most of the suits you'll see without handkerchiefs haven't even bothered to cut open the breast pocket on the jacket. You can immediately enhance your style, and your status in the room, with a pocket square. It can be as simple and classic as a bright white handkerchief folded and tucked. Advanced players can opt for more colors, patterns, and folds when desired.
Fitted Sunglasses – Sunglasses that are fitted are those that match your style and shape face. This matters more than you may think. If you've ever seen a gent wearing Oakley sunglasses that wrap around half his face like a shield, it might give you the impression that he likes his ATV and Ted Nugent, but really doesn't have any style. Another example is a gentleman wearing a pair of aviators that fit him so well, he looks like he's in charge every time he puts them on. You want to be the latter, so take your time, bring a fashion-forward friend, and try on as many shapes, sizes, and colors as you can before deciding.
I'm a huge fan of sunglasses in general, and have several for different occasions. My go-to pair are a $25 pair of aviators from J.Crew. My second love is a pair of oval wire Ray Bans (no. 3183 to be exact). Sunglasses don't need to be expensive – they need to be fitted. When they fit your face, and shield your eyes, you're golden.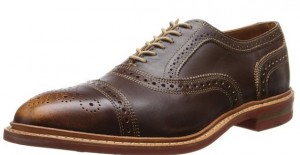 Big-Boy Shoes – The days of buying dress shoes and sneakers from Payless are over. Few things last as long at telling the world you're here to stay like a pair of classic, fashionable, hand-made shoes. Allen Edmond and Johnston Murphy are two of the houses that make quality shoes you need in your collection. Suddenly, you'll be noticed for how well those wingtips complement the rest of your style (pocket square and sunglasses included).
These are also shoes that will last you years; not weeks. When you step up to higher-end shoes, you're making an investment; not an expense. Make sure you have a pair of black and a pair of medium brown. Advanced players can also add suede, two-tone, distressed, and multiple cuts like brogue, cap-toe, and wingtip to their arsenal.
Wrist Watch – Before we go any further, please note that this doesn't mean you have to spend a lot of money on a watch. There are a lot of amazing budget watches that can be had for around $100. The way you instantly enhance your style is to update and/or upgrade your watch to something different, newer, cleaner, or nicer – or all of the above, really. If you've been wearing the same Fossil for the last 5 years, it's probably time to check out some newer styles. If you've been wearing multi-function Casio watches since high school and haven't ever upgraded, today is your day, my friend.
Here's an honest truth you may not know: it's not about flash these days. Currently, we're in a trend that admires watches and accessories that are clean, sleek, and classic with modern twists. James Bond wouldn't wear a G-Shock, would he? No. He'd have an Omega… that shot tranquilizer darts and lasers. After all, he is James Bond.
Lapel Pin – I cannot tell you how many compliments men receive on a daily basis when they sport a lapel flower. I frequently won't leave the house without one pinned to my jacket. Most lapel pins can be had for $10-$30, and are available in thousands of different designs, styles, and colors. Personally, I like the lapel flower. Pins are good to support causes (flag, club, award, etc.) but flowers do what they were designed to do: enhance their surroundings with color and charm. You will notice an immediate elevation in your personal style when the addition of a lapel flower.
BONUS: Tailoring Wins Every Fight – While it's not an essential item to enhance your style, having your clothes tailored to fit your body is bar-none, the greatest thing you can do to step up your game. When you have the slack in your slacks taken up, you'll appear leaner, taller, and possibly younger. When that jacket fits your body like it was made for you, you'll exude an air of confidence and command.
The bottom line is that you must invest in things that fit your body, and your style. More importantly, however, is your willingness to challenge yourself to look your best, even in environments that accept the bare minimum like business casual corporate offices. Start making the investment in yourself and your wardrobe today, and in a year from now, you'll wonder why you didn't start sooner. I promise.
What items are your go-to pieces for enhancing your style? Share in the comments below!